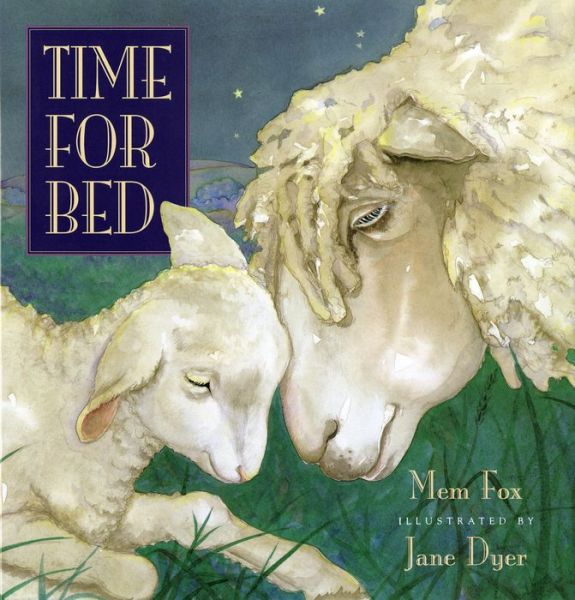 Favorite Childhood Traditions: 2 of Mine
Like many children, one of my favorite parts of the day when I was growing up was bedtime story time. Aside from Dr. Seuss' The Foot Book, the story I begged and begged my mom to read me was unoriginally titled Time for Bed written by Mem Fox. While this could be deemed a tradition in and of itself, in this case it serves as the base story of my one of my favorite family traditions. The book opens with, "Day is done. Darkness is falling everywhere, and little ones are getting sleepy" and continues with rhyming spotlights of different animal groups tucking their babies in to sleep. Repeatedly, a mother sheep says, "Go to sleep little sheep, little sheep. The whole wide world is going to sleep." Somehow this line stuck with me, and my mom never missed a night of reciting it to me. Don't believe me? Peruse the last text message I, a senior in college, received from her last night. During a visit home a few years ago, my mom kissed me goodnight and, like always, said, "goodnight little sheep, little sheep." Now, here's the link to my favorite family tradition. In search of a response, somehow a completely nonsensical one came to mind: "Goodnight, Mama Llama." And like I said…it stuck. Some call it Mother's Day, but at my house, it's Mama Llama Day. How would I explain that to a visitor from another culture? Well, I guess I'd be making a stop by the local bookstore to pick up a copy of Time for Bed in their native language. Nothing explains a family tradition like bedtime story time.
My second favorite tradition is another family-related holiday staple. Each Thanksgiving, as we sit down to dinner, there is always a little ribbon-bound piece of cloth containing a random number of candy corn. We go around the table using the candy corn to represent that which we are thankful for. While it may seems easier to get fewer and bundle your thanks, it's actually never as easy as it seems. Perhaps this was my first lesson in brevity. If so, it backfired. Instead, I learned how to compound even the seemingly most unrelated topics into one candy corn. In fact, I was the first to divide my candy corn into the three colors to assign it three items of thanks versus just one. I can understand that this concept would seem odd or even absurd to an individual from another culture, but hey, this girl's got a lot to be thankful for. An explanation would certainly require a thorough history lesson on the foundations of the American Thanksgiving celebration. Plus a few delicious candy corn candies, of course.